View
Charleston Daily Mail
(see photos below)
Article written by:
Charlotte Ferrell Smith
Daily Mail staff
For a natural high, experience the North Bend Rail Trail by bike, horse or foot.
No motorized vehicles are allowed on this 72-mile stretch meandering through Wood, Ritchie, Doddridge and Harrison counties. Once a part of the CSX system, the trail follows an old railroad bed through 13 tunnels and over 36 bridges.

Five tunnels are located within eight miles of Cairo in Ritchie County. Also, the North Bend Rails to Trails Foundation is in Cairo in the historic bank building.

Tunnels are a main draw along the nature-laden trail. Legend has it that the Silver Run Tunnel is haunted. It is said an apparition in a white flowing gown seen by railroad engineers in the early 1900s sometimes reappears. This tunnel is No. 19 and is located three miles from Cairo traveling toward Petroleum.

Well-traveled portions such as the area from Cairo to Pennsboro are peppered with gravel. The trail is more rugged in less traveled areas where riders need to be on the lookout for unexpected holes and larger rocks.
The adventurous hiker, biker or horseback rider will likely see wildlife along the way. This time of year, towering trees with outstretched branches shade the trail, blackberry bushes burst with bloom, fragrant wildflowers flank the path and plump tadpoles rest in pools of water near tunnels.
The scenic trail is dotted with natural areas, farmland and a variety of small communities.
Travelers should take flashlights for tunnels, drinking water and snacks. As the trail snakes through towns, there is the option of grabbing lunch at a restaurant or munchies at a store.
In fact, a new business is sprouting. Happy Trails Cafe in Ellenboro is expected to open at the end of the month. At this western-themed cafe, proprietors Gary and Mary Ann Schoeny will cater to trail travelers. There will be parking spots for bikes and a watering trough and hitching post for horses. The menu will include wraps, pastries, snacks and drinks created with coffee from 13 different countries.
"Our coffee will warm you...our love will warm your heart," said Mary Ann, reciting the business motto.

<![if !vml]>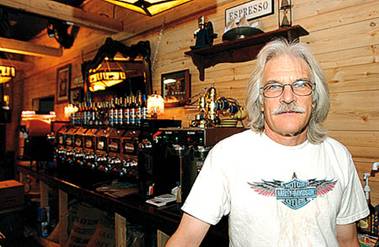 <![endif]>
Photo by Tom Hindman
Gary Schoeny works behind the counter at Happy Trails Cafe.

To check out the progress report for the cafe, go to the Web site www.happytrailscafe.com
Those who want to travel a good portion of the trail may choose to stay at one of the bed and breakfasts along the way. Also, North Bend State Park has a lodge with 29 rooms and eight cabins and a campground. To reach the park, call (304) 643-2931 or (800) CALLWVA. The Web site is www.northbendsp.com.
While the trail now includes 72 miles, negotiations are under way with CSX to add 4.9 miles from Wilsonburg near Wolf Summit to Clarksburg, said Kent Spellman, executive director of the Ritchie County Economic Development Authority. The state Department of Transportation has allotted an $80,000 grant, and $20,000 in matching funds has been raised, Spellman said.
Writer Charlotte Ferrell Smith can be reached at 348-1246.
Tunnel through this unusual rail trail
Tom Hindman/Daily Mail
6/5/2004